I do not recall the wheels coming off a bandwagon so fast than after Orb's 4th place Preakness Stakes finish, beaten a sound 9 lengths. Previously, the Triple Crown talk had started even before jockey Joel Rosario had a chance to wipe the Louisville mud from his face after he guided the Kentucky Derby 5-1 favorite to the wire first.  The fact he was pounded down to 3-5 odds at Pimlico (lowest in the last dozen years except for Big Brown at 1-5) and chased several top finishers from the Derby away from Baltimore reinforced that his five-race win streak was assuredly going to six. So was his effort last out really that bad or was he a victim of bad racing luck and a pace scenario that turned very much against him? As much as the speedy, sealed Churchill Downs oval aided his swoosh move on the turn to easily claim the roses, the leisurely pace as Oxbow was left alone on the front-end really took away his closing kick. The six furlong split time of 1:13 1/5 was more than three full seconds slower in the Preakness, even though the distance was a tad shorter… game over.  
Now clearly Orb was not at his best in the Preakness Stakes, since Mylute and Itsmyluckyday were able to close much better after being more than five lengths back at the half-mile mark. Listening to the comments of both Rosario and a dejected trainer, Claude "Shug" McGaughey, they felt the kickback was the major culprit of Orb's poor performance.  Probably being bottled up on the inside after breaking from post #1 didn't help much either, as many young horses are easily detracted on the inside with so much going on around them.
Yes, that humbling fourth place finish was miles away from the accolades leading into the second jewel of the famed Triple Crown (with respect to Miguel Cabrera). Somehow it became obvious just seconds after the Derby that Orb was not only the best of his class, but with his blue blood owners and breeding lines he would be a worthy champion and top sire, perhaps rivaling the recently retired European great, Frankel. But that is why we put them in the gates and race them, folks. Orb now has to go back to his familiar Belmont track and remind us all why we circled this Saturday in Elmont, New York on our calendars about five weeks ago with fervor!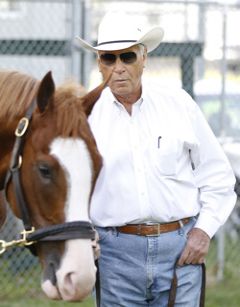 Make no mistake, a victory Saturday would resurrect plenty of chatter about Orb being a special horse and certainly clinch the 3YO male division if the trend of recent years Eclipse Award voting continues.  Since 1970, only four horses have completed the Derby - Belmont double making it rare air indeed. Riva Ridge accomplished the feat in 1972, then Bold Forbes '76, Swale in '84 and finally Thunder Gulch in 1995. Speaking of Thunder Gulch, has anyone else out there had the feeling this week that "the Master" D. Wayne Lukas could possibly start a new Triple Crown streak?  In my opinion, Will Take Charge would be no more of a shocker than Commendable in 2000 at 19-1 odds or even Editor's Note in 1996.  His Preakness was flat but he got cut off in the Derby running alongside Orb.  And don't forget that he beat a pretty nice colt named Oxbow in the Rebel Stakes at Oaklawn Park this spring. Perhaps the long-striding colt will take the big turns of "Big Sandy" to his liking on Saturday. If this happens, get ready to hear a lot of D. Wayne sound bites all the way up to next year's Kentucky Derby.
My pick: I am uncharacteristically going with the chalk of Orb and Revolutionary over a wide-open field in the exotic bets. I expect a legitimate pace between Oxbow and Freedom Child with the wild-card, Palace Malice, to keep them honest up front. For you "key race" handicappers out there, how wild would it be if Freedom Child ran into the trifecta with the favorites and replicated the 11/24/2012 Race #2 from Aqueduct? Might be worth a $6 bet!
Lukas Photo courtesy of Oaklawn.com